Historic haven for artists, entrepreneurs available for sale
Dating to 1880s, location features 40 studios across four acres
Historic Manufacturers Village, with its spectacular Black Lives Matter mural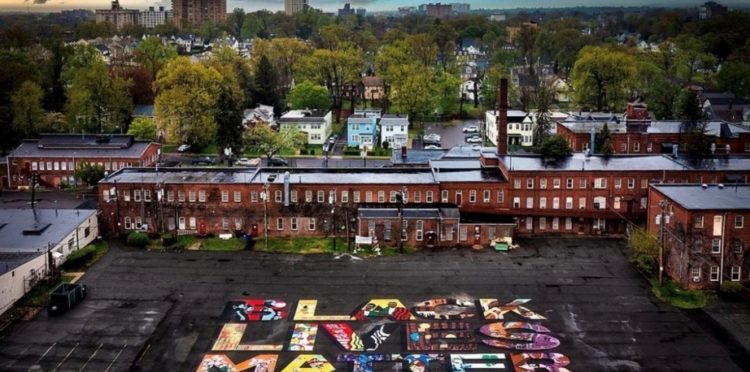 EAST ORANGE, NJ (July 14, 2022) – A historic East Orange site, which during the past two decades has evolved into a haven for local artists and entrepreneurs, is now for sale. Offers are being accepted through October 1, 2022.
Manufacturers Village is comprised of several brick and masonry buildings with a combined area of 104,459-square-feet, and is spread out across four acres. Fully leased and segmented into 40 studios of various sizes, the property is home to painters, sculptors, photographers, woodworkers, designers, and various small businesses.
"Some types of properties are rather difficult to find, but Manufacturers Village is beyond even that – it's absolutely one-of-a-kind," observes Marcy Gross, president of Sheldon Gross Realty, which manages the site. "Featuring 140 years of history, it now hosts a remarkable level of talent and vision. When you walk through the buildings, the sheer creative energy feels striking."
Constructed during the 1880s as the original headquarters for the company that would eventually become Johnson & Johnson, the Glenwood Avenue property was designated as Manufactures Village during the early 1900s. It was then the location began serving as operational space for multiple small businesses.
On an annual basis, each October, Manufacturers Village hosts an open studios event, when thousands of visitors tour studio spaces to watch artists at work and view completed pieces. In 2021, responding to the George Floyd murder, a group of artists – with the property owner's support – painted a 9,000-square
foot "Black Lives Matter" mural in the Manufacturers Village parking lot. The project was covered by network affiliate news programs, as well as by News 12 New Jersey and NJ.com.
About Sheldon Gross Realty
Based in New Jersey, Sheldon Gross Realty, Inc. offers clients a broad array of specialized services, including office, industrial and retail brokerage; tenant representation; property and asset management; office relocation; and consulting. Founded in 1962, the firm is known for its long-term client relationships, high percentage of repeat business, and a stellar 95 percent success rate in leasing/selling the property assignment it undertakes. Featuring an exceptional team of professionals renowned for outstanding customer service and committed to unparalleled market research, Sheldon Gross Realty addresses its clients' corporate real estate needs on a local, regional, and national scale.
Additional information is available online at www.sheldongrossrealty.com. A free consultation is available by calling 862.930-5714.
# # #