Sheldon Gross Realty overseeing 25,994-square-foot
medical office building in Fair Lawn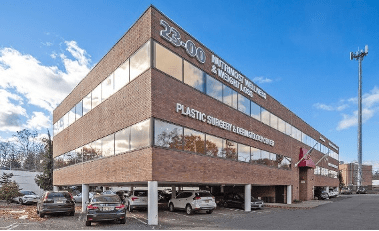 23-00 Rt. 208, Fair Lawn
Click for high-resolution image
FAIR LAWN, NJ (Aug. 25, 2022) – Sheldon Gross Realty has been appointed to provide full-time, comprehensive property management services for a 25,994-square-foot medical office building in Fair Lawn, NJ. Located at 23-00 Route 208, the two-story structure features 12 office suites.
Services provided by Sheldon Gross Realty for the location – which has 80 parking spaces on a 1.19-acre lot – include ongoing property analysis to confirm optimal utilization; coordination and supervision of repairs and upgrades both to the building and all building systems; rent collection; and payment of invoices.
"For a building of this size that specializes in medical tenants, it's essential to have a full-service property management provider," says Sheldon Gross Realty President Marcy Gross. "In addition to ensuring that an owner is maximizing their investment, professional property management also supports client retention by ensuring that tenants' needs are being addressed."
Along with providing direct access to Route 208, the building is a quick drive from the Garden State Parkway and Route 17, and is less than 10 minutes from Route 80.
Information on leasing space within 23-00 Route 208 in Fair Lawn is available by contacting Team Lizzack/Horning at NAI James E. Hanson.
About Sheldon Gross Realty
Based in New Jersey, Sheldon Gross Realty, Inc. offers clients a broad array of specialized services, including office, industrial and retail brokerage; tenant representation; property and asset management; office relocation; and consulting. Founded in 1962, the firm is known for its long-term client relationships, high percentage of repeat business, and a stellar, 95 percent success rate in leasing/selling the property assignment it undertakes. Featuring an exceptional team of professionals renowned for outstanding customer service and committed to unparalleled market research, Sheldon Gross Realty addresses its clients' corporate real estate needs on a local, regional, and national scale.
Additional information is available online, at www.sheldongrossrealty.com. A free consultation is available by calling 862.930-5714.
# # #