Contacts:         Kurt Praschak / [email protected] / 973.992-7800, x.289 
Lupe Dragon / [email protected]/ 973.992-7800, x.172 
Somerset space leased to New Jersey's  
Independent Electrical Contractor Association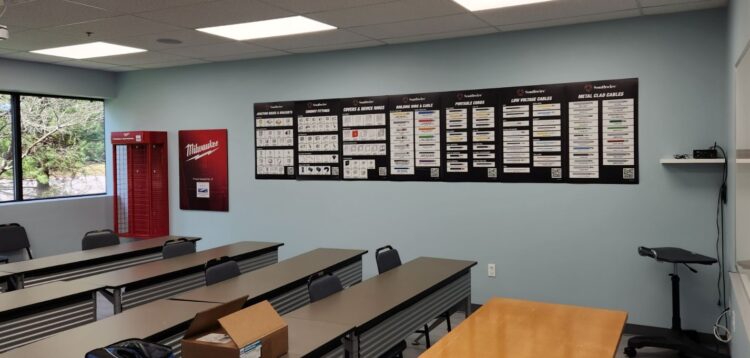 Click for high-resolution image 
SOMERSET, NJ (Sept. 27, 2023) – A 5,000-square-foot commercial space in Somerset has been leased to the New Jersey Independent Electrical Contractor Association (NJIEC) in a deal brokered by Sheldon Gross Realty President Marcy Gross and Vice President Eric Weston.  
Located within the 20 World's Fair Drive complex between Cedar Grove Lane and Atrium Drive, the space is being used for a comprehensive training program that enables apprentices to qualify for the more elevated status of journeyman electrician. The NJIEC program, which is recognized by the United States Department of Labor, requires a minimum of 576 hours of classroom instruction, plus 8,000 hours of on-the-job training. Additional details on the training program are available online at nj-IEC.org. 
Centrally located, the Somerset location is readily accessible from all directions. Less than a mile from Route 287, it's just 15 minutes from Rutgers University and from downtown New Brunswick. Both Newark and Morristown are only 30 miles away.  
"When you're securing a property for instruction and training purposes, location is crucial," Weston explains. "You need to be readily accessible to as many prospective students as possible, and that pretty much describes Somerset. Whether one of the association's apprentices is based north, south, east, or west of this site, they'll be able to get there quickly and easily."  
About Sheldon Gross Realty 
Based in New Jersey, Sheldon Gross Realty, Inc. offers clients a broad array of specialized services, including office, industrial and retail brokerage; tenant representation; property and asset management; office relocation; and consulting. Founded in 1962, the firm is known for its long-term client relationships, high percentage of repeat business, and a stellar 95 percent success rate in leasing/selling the property assignment it undertakes. Featuring an exceptional team of professionals renowned for outstanding customer service and committed to unparalleled market research, Sheldon Gross Realty addresses its clients' corporate real estate needs on a local, regional, and national scale. 
Additional information is available online at www.sheldongrossrealty.com. A free consultation is available by calling 862.930-5714. 
# # #